Blog
Stay current with the latest Announcements, Blogs and Articles about us and the industry by reading our latest blogs and news.
---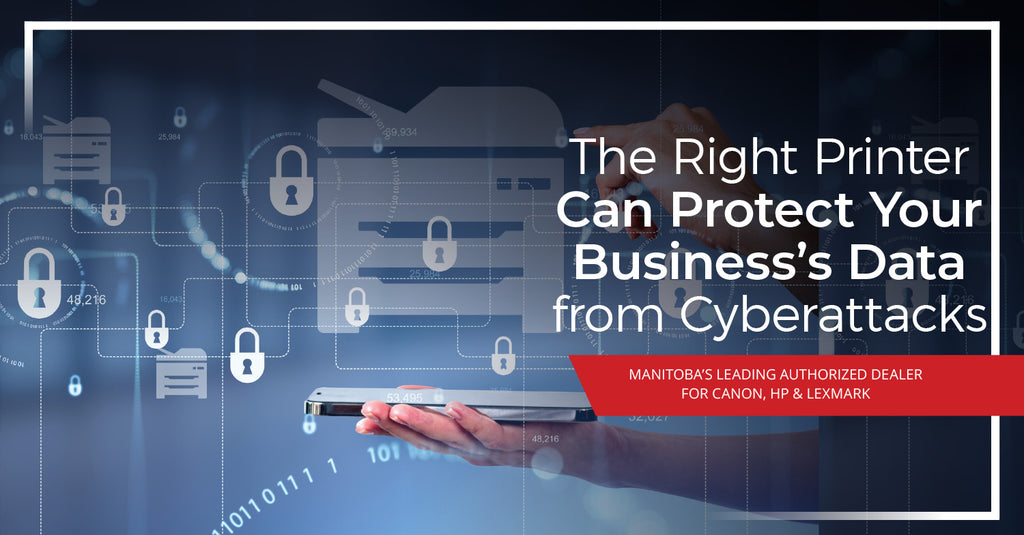 Make Print Security a Priority with HP
Published By: Eric Johannson | Wed Oct 25, 2023
---
HP printers are some of the most secure devices currently on the market. The company has worked hard over the years to create intelligent software that can better protect users' data. Even still, many people are unaware of their printer's security functions or what makes one device or brand safer to use than another. That's why we want to help clear some things up.
We're here to talk about some important security facts your team should know. Specifically, we want to address the common misconception that printers don't need to be properly secured. As cyberattacks have continued to rise over the years, there's been a noticeable trend emerging. Many companies and individuals are accidentally leaving "open doors" to their networks—namely by not securing their printers.


The Importance of Securing Your Printers
Print devices are among some of the most overlooked when it comes time to review a business's security. Too many people believe that having a firewall in place will be enough to stop any attacks to their computers from supporting devices, like printers. This isn't true. 
Printers have all the components of your computer: a connection to the network, they can communicate with your server, they have an operating system, and they have memory. So they should be protected as vigorously as your workstations. Print technology is becoming more sophisticated, with many devices now including mobile print functionalities and cloud features. All of these can connect your device to the internet. This means that—much like any other technology—your printer is now open to attacks.
If you don't take the correct steps to properly secure your printer, then you're leaving your business's data vulnerable to cyberthreats. While most printers come with very basic security measures in place, there are some that go the extra mile.
HP has become a powerhouse in print security. They have implemented several safety features that their competitors haven't. This and the company's cybersecurity awareness make them one of the most trusted technology companies in the world.
 
HP's Superior Print Security
While other print companies have basic security parameters for their devices, HP has taken the extra step to ensuring their customers' safety. Unlike competitors, HP has self-healing BIOS validation, where the device is able to recognize if it's been compromised upon boot up. In these instances, the printer will reboot with a golden copy of the BIOS in place of the corrupted one. 


Along with this, their Wolf Enterprise Security has multiple layers of defenses that other companies don't have. This includes things like self-healing BIOS, continuous memory inspection, outbound network inspection, and control flow integrity.
For good measure, HP also has over 250+ security settings on their enterprise devices. Types of policy settings that they have in place include:
Fax speed dial lock

File erase mode

Remote firmware upgrade

Device PIN presence

Fax Pin

Secondary e-mail authentication

Maximum attachment sizes

Send to folder authentication

Walk-up authentication

Internet printing protocol
To make it easier for businesses, HP also has HP JetAdvantage Security Manager, which offers teams helpful tools that make it easier to monitor and protect their entire fleet. Each layer of defense works to strengthen your business's compliance to security policies in your area. If you haven't already, now is a great time to review what policies your team should be following when it comes to the handling and disposal of private data. This will keep not only your information protected but also help your company maintain a positive reputation.
Looking for an HP printer for your business? Browse through our selection to find the perfect product for your team's needs. 



If you're not sure if you should be upgrading your device, or if you're meeting compliance, it might be a good time to ask yourself some crucial questions about your print security.
Important

Things

to Consider About Print Security
Many people find themselves in dangerous situations when it comes to cybersecurity because they aren't aware of the risks. This is especially true of print security, which so often gets ignored. There are many common misconceptions floating around, but luckily HP has worked hard to help call attention to some of these.
Questions to Ask:
1. My company leverages firewalls to protect our devices, so why do we need security on our printers?
Answer: Just like with your computers, having several layers of defenses on your printer will help you mitigate risks and decrease the number of cyberattacks you experience. The more security features available to you, the lower your risks of losing data can be.
2. Do we really need all these security features for a printer?
Answer: Yes! Printers should be treated just like any other device on your network. Sensitive data passes through them every day, making them an excellent target for cybercriminals. Protecting your sensitive information from an attack should be a top priority for your business.
3. Why would hackers want to target printers?
Answer: While it might seem like your printer has nothing of value for a cybercriminal, what it offers is an entry point into your network. Hackers will look for the weakest point in your system, breaking through so that they can access other resources. As they're so often overlooked, print devices often act as an open window into your network.
4. So, what makes HP's print security better than others?
Answer: Unlike other print companies, HP printers have the ability to auto-recover from potential security risks. At the endpoint level, this means self-healing BIOS and multi-layers of security defenses found in easy-to-access features. For businesses with entire fleets, this means harnessing the power of HP JetAdvantage Security Manager.



Looking to Make the Switch to HP? Carlyle Can Help!
As a company that works closely with HP, Carlyle knows the ins and outs of their print devices. We're able to match businesses with the perfect device for their printing needs. The security of our clients is a top priority, and our team of print experts is prepared to set your team up with the most secure devices on the market.
Want to learn more about print security and what device is best for you? Contact us today. 
Or call us at 204.262.1035 today for a free assessment.