Blog
Stay current with the latest Announcements, Blogs and Articles about us and the industry by reading our latest blogs and news.
---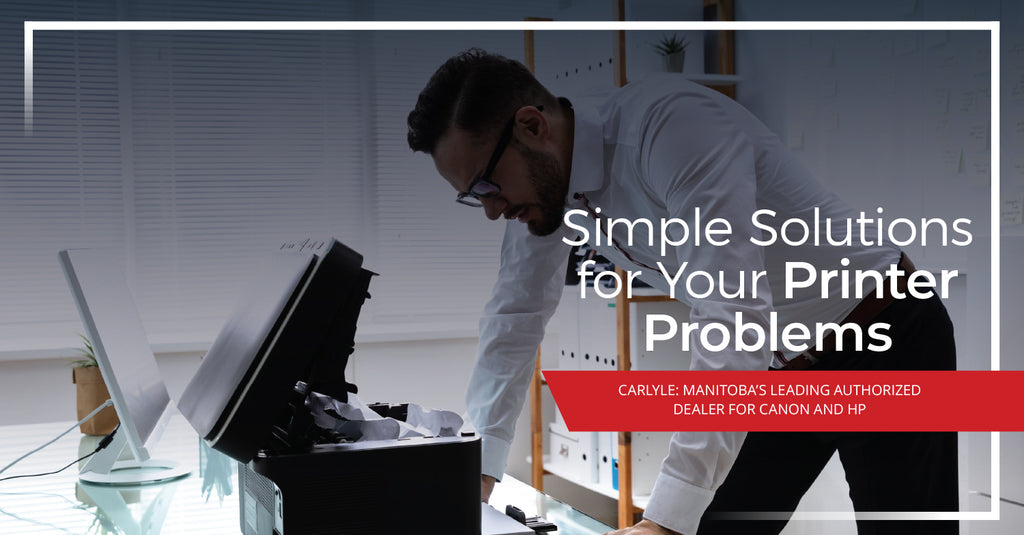 Top 3 Printer Problems and How You Can Repair Them
Published By: Eric Johannson | Mon Jan 24, 2022
---
Printers can sometimes have problems, and of course, this usually happens at the most inconvenient time. We understand this annoyance and are here to help. When your printer or copier isn't working properly, it can be very frustrating and interrupt your workday. Luckily, we know the tips and tricks to all of the common printer issues and can help you repair your device so you can get back up and running quickly. 
Here are the top three most common printer problems and some simple solutions.   
Click on the issue you have to get the information you need to help solve your printer problem. 
Streaks or Lines On Prints 
Print quality is a priority. You work hard and need to print documents that show this. It's crucial to have clear and crisp prints without any streaks or lines so viewers can not only understand what you are showing to them but also to make a good impression. 
The Cause
The reason you might be getting streaks or lines on your print is because the printhead may be blocked. This can occur with inkjet printers when they are not used frequently. If you have a laser printer, it could be the drum (also known as the imaging unit). 
The Solution
For Inkjet Printers:
1. First, you will want to check the ink levels in your cartridges and make sure they are not empty. 
2. Once you have ruled out that the ink cartridges are ok, go to the support menu on your printer and look for the printhead cleaning option. Select this cleaning option and let this run. Hopefully this will fix the issue.     
3. Step two might need to be repeated depending on the state of your printhead. Keep in mind this will use up your ink while running. 
For Laser Printers:
If you have an all-in-one toner cartridge, start by checking the toner level on the cartridge. If there is less than 30%, this is likely causing the issue, and you will need to replace the toner cartridge.  
If you have a separate toner and drum unit, you will probably need to replace the drum. Depending on which device you have, your drum unit will only last up to 150,000 prints, so it might have reached it's lifespan. To confirm this, find the life of your toner and drum unit by printing a supplies status report from your reports menu on your printer.   
If all else fails, it might be time to call a repair service expert. Contact us at 204.790.3881 or complete our contact form. 
Lines on Scanned Documents
Your scanner can also sometimes have annoying lines across the pages. This is a common issue and in most cases a simple fix. If you have an MFP or copier and you are getting lines on documents that show up when you try to email or print them there is a 98% chance that you will be able to fix this without a technician! 
The Cause
Most likely there is just debris on the reader glass which can be easily wiped away. 
The Solution
First,

 locate the glass reader on your device. Here is an image of what it should look like. 

Second,

 look for debris on the glass reader by lining up your scanned document, as seen in the image here, and using it as a guide to find where you need to clean the debris away.  

Third,

 wipe away the debris. We recommend using a cloth with some rubbing alcohol for the best results but window cleaner will work as well. 
If you don't see any debris that can be wiped away there might be something else going on with your scanner. In this case, give us a call at 
204.790.3881
 or complete our
contact form.
The Paper Jam 
contact a repair person to fix or replace a part.    
Printers can be fussy, but when they are working correctly, they help keep your office functioning at maximum efficiency. We hope these tips will help you keep your printers running like new. 
However, sometimes your printer problem is more complicated, requiring a skilled professional. Or you simply don't have the time! Our service department has a 95% first time fix rate, and we offer our customers an on-site repair services within 4 hours or less. 
Reach out today to get the help you need.