Blog
Stay current with the latest Announcements, Blogs and Articles about us and the industry by reading our latest blogs and news.
---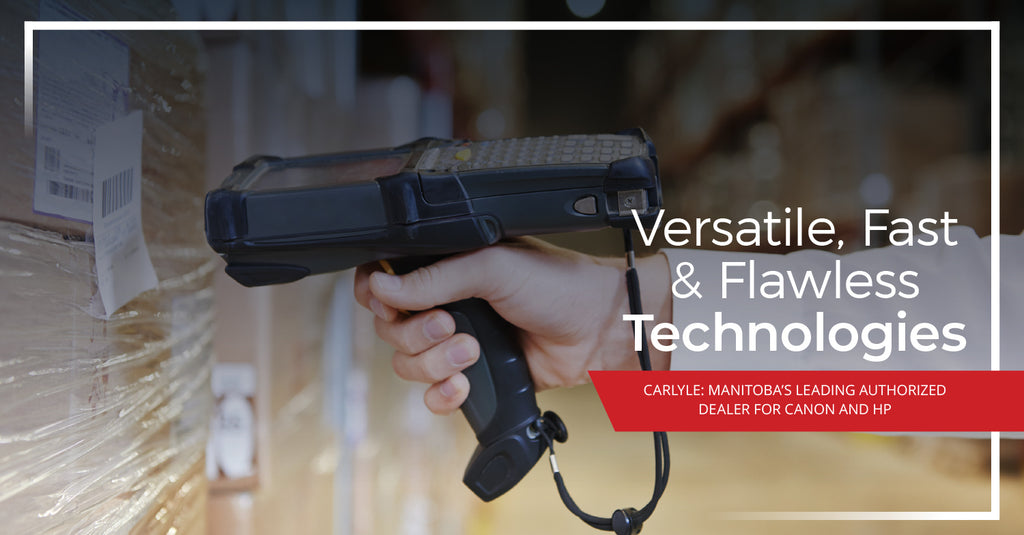 Zebra Technology Products You Need to Enhance Your Business
Published By: Eric Johannson | Wed Nov 10, 2021
---
Advancements in technology are helping businesses to be more efficient everyday and Zebra Technologies is a leader in providing solutions that might be able to help you. As a business owner or manager, it's important to slow down once and a while and look for opportunities where you can introduce new solutions. Yes, the addition of anything new can be time-consuming and often frustrating, but the benefit of a more efficient and productive workplace outweighs the growing pains you will face during the transition period.

New technologies will help your business grow and perform better. That's a fact.

At Carlyle, we're excited to be able to offer Zebra products to our customers because we know that their innovative and high-performing solutions help boost business operations.

They have an application for everyone. Read on to see how your business can use these advanced technologies to greatly improve efficiencies within the workplace.
Here Are The Top Industries That Will Benefit From These Solutions
Field Mobility: Mobile Technology for Energy & Utilities 
It is critical that field workers have access to tools that will enable them to capture, access, and share essential information—no matter where they are working and regardless of the conditions they are working in. 
Luckily, Zebra has created mobile solutions that were made for field workers (utilities, oil and gas, telecommunications, etc.). With these leading technologies, they will have the ability to access critical data, collaborate, and get real-time guidance via mobile workflows. 
These mobile solutions are not only compliant but they were built with the highest level of security that this technology has to offer.
Manufacturing: Solutions that are Built for Success
Zebra's purpose-built solutions were made to help you stay ahead of the curve (and more importantly, the competition). From the plant floor to field operations and warehouse environments, Zebra has what you need to take your business to the next level. 
Carlyle is proud to be able to offer these quality solutions at every stage. Whether you're looking for fundamental mobility solutions or a fully integrated solution, we can help. 

Retail: Drive Performance from In-Store Right to THEIR Door
As technology has evolved, so has the way consumers shop for their products. They want what they want when they want it, and they usually want it a specific way. You'll be happy to know that Zebra has thought ahead so you don't have to. Their retail technology solutions boost efficiency, productivity, and profitability (we know—that's music to your ears). Your associates will be able to easily exceed customer expectations and keep them coming back. 
Their solutions will help with tracking, inventory and orders, product lookup, point of sale, and more! Foster customer loyalty and relationships at the front line of your business. 
Warehouse: At Last, a Well-Connected Warehouse!
A well-connected warehouse is imperative to the success of your business. Having access and intel on all of the moving parts (like the assets, people, and processes) is critical to a profitable and perhaps, more importantly, compliant supply chain. This is true whether you are in a manufacturing warehouse, distribution center, or the back room of a retail location. 
With Zebra's integrated solutions, you will have the ability to connect the operational areas in your warehouse and you will be able to more easily identify areas where you can improve or where you need to make changes.
Here are the products that will help you succeed.
Check out Zebra's intelligent collection of products here.
Work more quickly with MOBILE COMPUTERS.
A familiar interface 

Made for work—tough as nails

Ultra-secure

Versatile & efficient 
Capture data in any environment with personal SCANNERS.
Fail and error-proof scanning

Made to increase productivity

More accurate data

Hands-free solutions available
Increase employee productivity and accuracy with mobile label PRINTERS.
At Carlyle, we believe that your printers should perform perfectly all the time. Otherwise, business operations will falter—and that just isn't an option. With Zebra's intelligent solutions, you will feel confident knowing that your devices are secure, self-reliant, durable, and built with quality in mind. 
Simple to operate

Compact & durable

Barcode label, receipt, wristband, and RFID applications available

High-performing printers at price points you can afford

Accessories are available for a complete portable solution

Future-proof adaptability

24/7 reliability

User-friendly




Reach a higher standard and improve traceability with rugged TABLETS. 
Smart and tailored to each individual's way of working

Purpose-built

Fully customizable 

Made to expedite everyday tasks

Can be used in harsh environments

Fully configurable & simple to deploy

Forklift mounting options
Free up workers so they can handle more with wearable COMPUTERS.
Comfortable to wear

Improved accuracy and productivity 

Made to be worn...anywhere

The best hands-free solution available
Finally...you can advertise shorter delivery times with VEHICLE MOUNT COMPUTERS.
Spiraling quantity of orders? Complex item-level picking? Not a problem with this smart solution.
Unstoppable access to Win10 or Android applications

Fast and flawless results 

Fulfill orders in hours, not weeks
Check out Zebra's intelligent collection of products here.


Looking for more information? No problem! Contact us today and we'll help you find a solution that works for you.