Blog
Stay current with the latest Announcements, Blogs and Articles about us and the industry by reading our latest blogs and news.
---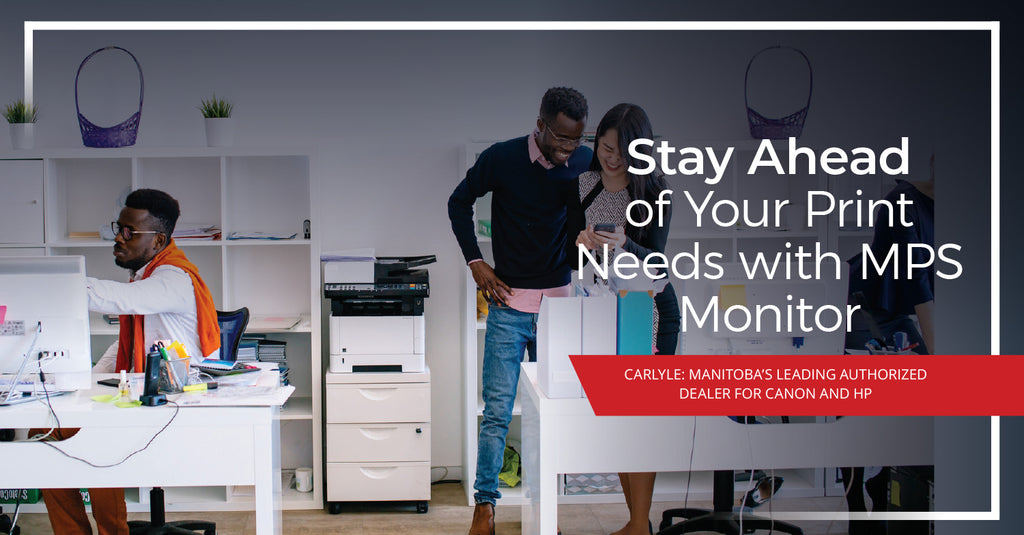 What is MPS Monitor and Why Does Your Business Need It?
Published By: Eric Johannson | Fri Jul 14, 2023
---
In the busyness of the day, it's easy for team leaders and office workers to forget about the small things, such as monitoring and updating their printer. You have so many mission critical tasks to focus on that it makes sense that these things could fall through the cracks. But forgetting can lead to serious consequences, such as running out of printer supplies or even having a device break down entirely. That can set your team back hours, days, or even weeks when it comes to productivity. 
This can all be avoided with remote monitoring and proper management of your printers. With the right software, your team won't have to worry anymore. Let someone else handle the little things so that they don't become big problems. We offer a quality remote monitoring and management software called MPS Monitor.
What is MPS Monitor?
MPS Monitor is a leading software as a service (SaaS) platform for remote monitoring and management for both printers and multifunctional devices. It is a comprehensive solution used by over 180,000 users to monitor over 1,200,000 print devices each year. MPS Monitor also partners with several trusted brands, including HP, PrintReleaf, Buyer's Lab, and Microsoft.
MPS Monitor can easily be integrated with your pre-existing external software solutions and is both highly scalable and high performing. Carlyle uses MPS Monitor to ensure our customers' devices are always operating in tip-top shape. By using MPS Monitor, we're able to:


 

Remotely monitor all devices installed on your premises.

 

Access real-time data and indicators of volume, consumption, average coverage, duration, and frequency of consumable exchanges.

 

Check the status of consumables.

 

Carry out the page counter readings on your devices.
Is MPS Monitor Secure?
All our customer collected MPS Monitor data can be accessed by us through the cloud. MPS Monitor also has a holistic approach to security, ensuring that your data is always protected. It has passed security-verification testing and receives continuous audits to ensure it is able to meet compliances. MPS Monitor has several accredited security certifications, holding the most of any cloud-service provider.
You Can Set Up Automatic Meter Readings
Sending meter readings can be a huge hassle for your team. Someone will be made responsible for going to each and every device in your office to collect the data. That is valuable time that they could be using on tasks with pressing deadlines. It can also be frustrating, as some devices don't have user-friendly menus and your team member might not know where to locate the "meter reading" option. 
With MPS Monitor, you can remove this stress from your routine. The software automatically sends out meter reads when it is most convenient for your team. With automatic meter reads, you won't have to worry about potentially missing a deadline or forgetting to send the information along to us. Instead, the MPS Monitor software will take care of that for you.
It will also give us a more accurate collection of data than manually entered information would. With the added stress of missing work and tasks piling up, it's understandable that numbers might be input incorrectly. With automatic meter reading, your team won't have to stress anymore about this happening. 
You Can Get Automatic Toner Orders
Running out of toner is the last thing your team wants. When it comes down to crunch time, it's crucial that you have the means to print your important documents. But imagine running to the printer to get your sheet only to discover there's no toner left. Placing an order right then and there means potentially waiting days or weeks for your supplies to come.


Forgetting to order supplies happens to us all. But what if we told you it didn't have to be like that? Instead of running out at the worst moment or over-stocking and causing excessive waste if it goes unused, you can now guarantee that you'll have the supplies you need when you need it. MPS Monitor has automatic toner order settings, which alert us to ship you supplies 21 days before it's set to run out. We can monitor all your devices or select devices, per your choosing. Let us take the stress of ordering toner off your plate! 
Important Alerts Are Sent to Us Right Away
Just like with your supplies, it's important that your devices are in the best working order to keep up with your flow of productivity. This means ensuring the software on your devices is always up to date. Instead of running around and checking each device, the MPS Monitor software can be set up so that we remotely update firmware on your behalf. You won't have to worry about interruptions to your workflows any longer, as we will choose the optimal times for your team to perform updates.
We can also receive predictive analytics on select devices that will alert us of any necessary repairs. This can be done, for example, with your fusers for laser printers. If the fuser starts to overheat, then we will receive an update that indicates a possible future failure. This is something our techs can then quickly resolve, as we will dispatch them to your area before the device experiences a serious malfunction. 
Taking preventive measures, such as the ones we've detailed above, will save your team from stress. It will also put you in the best position possible to deliver quality work to your clients. Keep your team on the right track, boost your productivity, and free up time in your day with MPS Monitor. 
Contact us today to learn more about how MPS Monitor is right for your business.
Subscribe
Stay up to date with Carlyle
Recent Posts