Blog
Stay current with the latest Announcements, Blogs and Articles about us and the industry by reading our latest blogs and news.
---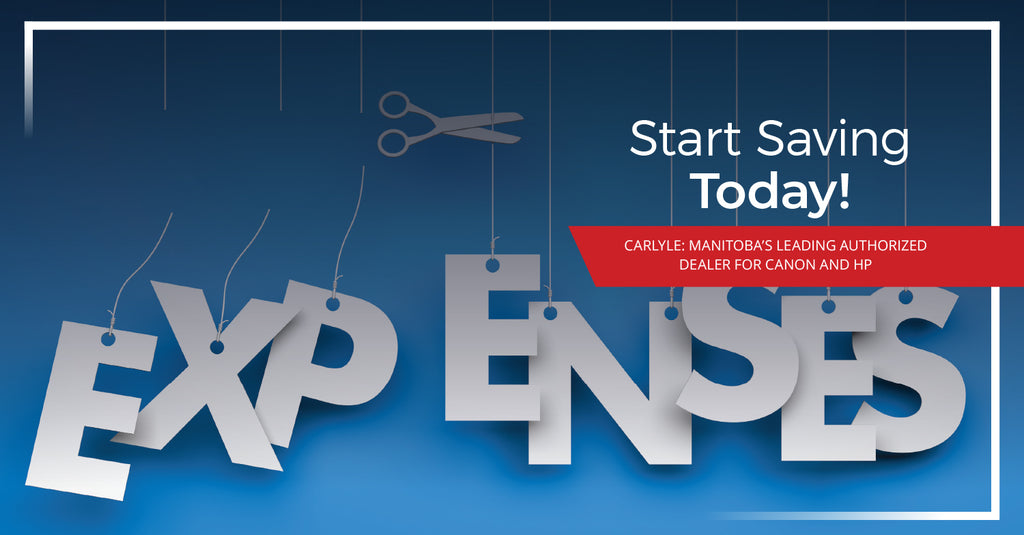 5 Valuable Tips for Saving on Print Expenses From Print Experts
Published By: Eric Johannson | Mon Sep 19, 2022
---
For many departments, printers are one of the most useful tools. Finding the right printer is an achievement worth celebrating––but it can feel more than overwhelming once your printer is actually set up and ready to go. Most of this is because printing expenses can be daunting.
While the cost of the printer is calculated before purchase, people tend to overlook the future costs of maintaining and using the printer. 
Luckily, if you have a team that's going to be consistently printing, there are several things you can do to save money!


1: Managed Print Services 
Managed print services
can be a great way to monitor and manage your print expenses. Getting expert advice on how to manage your print fleet can reduce costs and increase office efficiency. 
It's essential for any company, big or small. 
As experts in the print industry, Carlyle has been trusted by many companies (including some of the largest corporations in Manitoba) to manage their print fleets.
We assist with:
Reducing business' print-related costs by up to 30%

Decrease paper and consumable waste

Assist with your IT department's workload
Instead of purchasing your supplies, service and parts from separate places, Carlyle can manage everything from desktops to copiers. We help you look for ways to print less and accurately measure whether your print fleet is meeting your print goals. 



2: Use Duplex Printing
Most printers automatically come set up to print one-sided. This can be an overlooked setting that will lead to higher costs. Almost every office printer can perform duplex printing (printing on both sides of one paper).
Check that your printer is set to perform duplex printing by default to cut down on excessive paper use. You'll be saving twice the amount of paper!



3: Default to Black and White
Replacing colour cartridges can be costly. To save money, you can check that the settings on your office printer defaults to black and white.
Make sure to discuss with your team that colour printing should be limited to projects that absolutely need it, and not for just any document. For example, while your marketing and design teams require colour printing, your accounting team might not. 



4: Set Up Power Saving on Your Devices
To use the least power and reduce costs, set up your print devices to automatically go into sleep mode at specific times. 
For example: If the office closes at 5:00 PM, have your device go into sleep mode and "wake up" when people arrive back in the office at 8:00 AM.  
This change won't impact your team and will save on energy costs.



5: Consider The Device Itself
Do you have an old or outdated model that's no longer meeting your needs? It could be time for an upgrade!
Getting a new printer might seem like a counterintuitive way to save money, but (after the initial cost) you could find your company saving more than you thought possible.
Old devices tend to require more power, run out of supplies faster, and aren't as efficient as a newer model. What's more, your device might not even have all the features you need––or it could have too many that you never use.
Does your company print mostly text documents? Then you opt for a monochrome printer instead of colour. 
Likewise, if you're printing exclusively text documents, a laser printer might be the better choice for your team. Laser printers print quality text documents. They also have a higher page count and bigger cartridges than an inkjet––lasting longer before needing a replacement.  
Worst of all is that outdated devices don't have the best security features. They're not equipped to handle the latest threats. They're a ticking time-bomb of expenditures. One misstep, and your company could be held for ransom by a cyber criminal, which could cost you thousands of dollars. 
Upgrading your print devices results in more savings. From cost of supplies to better technology that supports supplies saving initiatives––consider upgrading your printer to reap the benefits.


Leasing Instead of Buying
Want to upgrade but not so keen on buying a new printer outright?
There are several leasing options available to you! Carlyle offers short and long term leases on the latest in print technology.
Learn more about leasing here. 
Want to learn more about how to save on printing expenses? 
Or call us at 204.262.1035 today for a free assessment.