Blog
Stay current with the latest Announcements, Blogs and Articles about us and the industry by reading our latest blogs and news.
---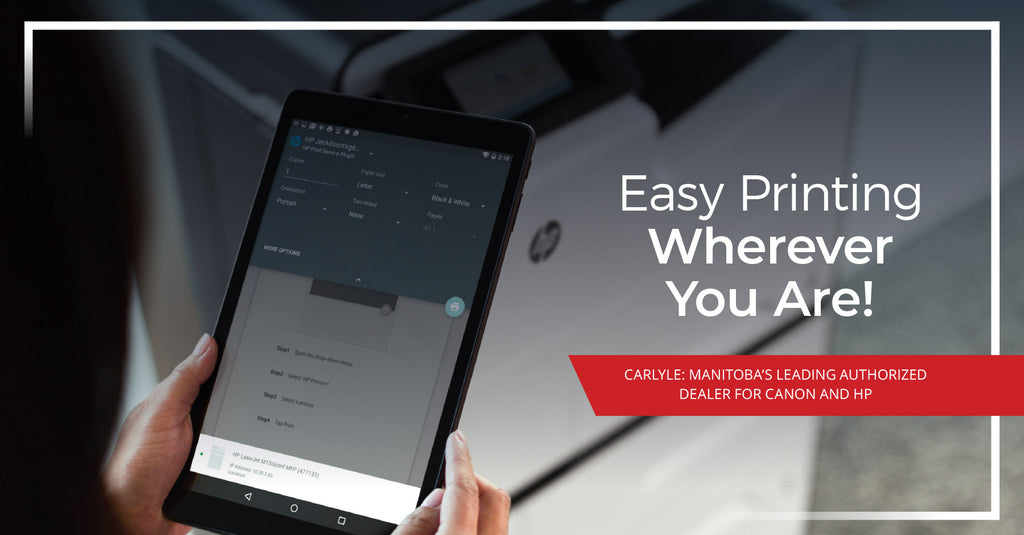 Modern Print Methods Unite Your Team
Published By: Eric Johannson | Tue Jul 26, 2022
---
With workers both on-site and at home, it's important to maintain the flow of productivity and collaboration. Print can be an excellent way to achieve this. There are secure, fast, and efficient ways for teams to collaborate.
Print has evolved to match and surpass expectations. New features, updated equipment, and better security have made all the difference for our global workforce!
Sky's The Limit with Cloud Printing
The Cloud is a valuable universal tool. Data centers across the globe store and safeguard our information such as photos, files, and videos. All of this can be accessed wherever we go and has become important for team collaboration, especially for printing.
Many print companies have implemented cloud systems into their devices' software. HP, for example, has added cloud features to many of their printers and copiers.

These systems help with:
Storing print jobs in the secure cloud.

Printing from any available printer in their fleet.

Eliminating unnecessary paper waste by only releasing documents when a user is ready.

Saving companies money on print supplies because unnecessary documents won't be printed.

Since teammates are spread out across the city, and sometimes even the country, the cloud has become a valuable resource. Printers, both at home and in-office, are connected to users' mobile devices and information is sent freely between them.
Mobility is Key 
Smartphones are also equipped with helpful features that connect teammates to the cloud. Everything from minute notes, documents, PDFs, and images can be sent for review. The flexibility of mobile devices makes printing between offices seamless.
Once attachments have been received, there are several options for mobile users to print documents. AirPrint, Google Print, and Windows let mobile users connect to their office's printers, providing convenience to remote workers. 

The benefits of mobile printing include:
The ability to install apps with data encryption for extra document protection.

Jobs won't print without being manually released, saving you from unnecessary waste.

Unauthorized prints won't go through, protecting your company's sensitive data.

Maintaining your office's workflow with the option to print from anywhere.

HP and Canon printers are excellent for supporting mobile users. Their printers have user-friendly steps that connect both Android and iPhone devices, allowing for decreased downtime and increased productivity. 
Keep Documents Safe
A major concern for companies is data security. With people connected to their home and office devices, it's important to be extra diligent. Luckily, there are several secure options available that you can implement.


FollowMe Printing:
With FollowMe printing, users send print jobs to a queue, where it waits for a user to manually release it. The data will only be released to specific employees, and if it's not printed within 12 hours the document is safely removed from the queue.  


Pin-code printing:
Pin-Code printing is perfect for when you have team members working from home and in the office. If someone wants to send something to the office for print, all they have to do is create a pin code for that print job. The user shares the code with their coworker, who can then release the document at the printer. This keeps data secure while it's at rest, avoiding security risks.
Print Near and Far
Our team at Carlyle knows all the best methods for printing between the office and home. We can help your team implement the changes necessary to keep up with workplace demands by creating productive printing practices.
Printing is made easy once you've found the perfect device. As your team continues to evolve, adopting hybrid working, you'll want to upgrade your printers and copiers. Outdated technology can't utilize the modernized methods for printing detailed earlier. Luckily, there are a lot of great new printers out there that can help support your team!
Carlyle will help your team find the right devices, offer you helpful printer tips, and give in-depth details about the various ways your team can print! Our dedicated team of technicians will continue to lend you support even after your printers are installed.
Ready to upgrade your devices and methods of printing for your team? Contact us today!