Blog
Stay current with the latest Announcements, Blogs and Articles about us and the industry by reading our latest blogs and news.
---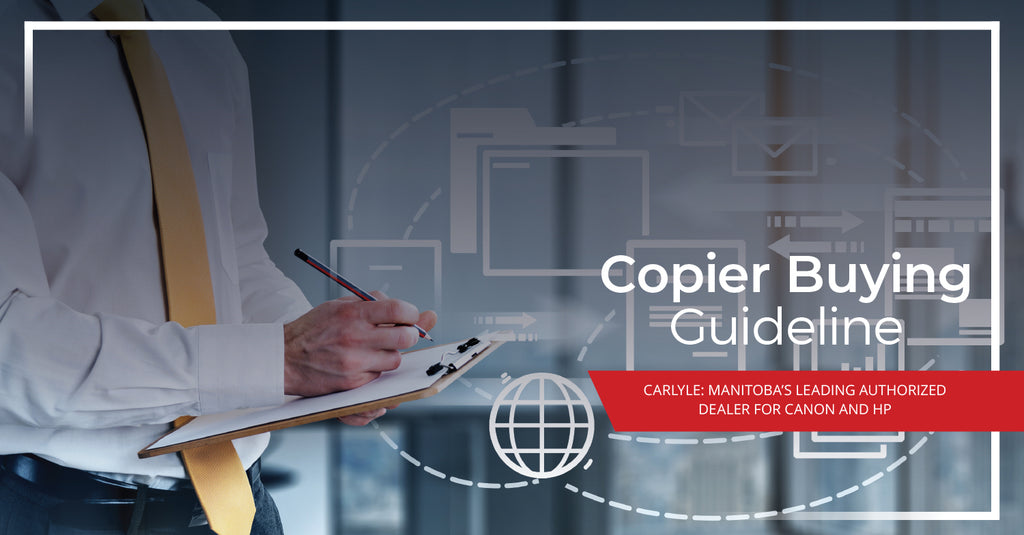 A Guide for Buying the Best Office Copier for Your Needs
Published By: Eric Johannson | Tue Sep 07, 2021
---
With so many options available, purchasing the right copier for your office can be daunting. You want it to be powerful enough to handle your office's demands but not so sophisticated that you're paying for more than you need. Like most decisions you make for your business, you need to think strategically when purchasing your next office copier. 
We have a simple guide to help you with just that!


Here are 6 guidelines you need to analyze before you add to your cart.


 
1. Mobile Friendliness 
Many of us can't live without our mobile phones. They help us carry out our daily tasks and make our lives easier. They can also make your printing needs more convenient. Have you ever forgotten to actually hit print on your computer and walked to your printer to find an empty tray? Very irritating, right! Well, you no longer need to be tied down to your desktop to reprint or get documents you need urgently. Printers now have the capability to connect to mobile devices so you and your team can print or send scans from anywhere, saving you time and frustration. 

2. The Features
We appreciate that every business is unique. Therefore we know you have specific needs for your office equipment. Maybe you have more complex needs or maybe you just need something simple to get the job done. Either way, you want to make sure your machine is suited to what you require and is easy to use. Here's what you need to think about: 
• 
What type of display do you prefer?
• 
Do you need a media or USB port? 
• 
What are the paper-handling options?
• 
Does it have internal memory?
• 
What's the engine speed?

There are a lot of factors that go into buying the right printer and picking the right one can save you time and money. It's a good idea to know what your team will need most from the printer and picking features that will make that task easier and more efficient. Take a look at the lineup of printers & copiers available today. 
 

3. Security  
Your copiers and printers, like your computer, are connected to your network and are often the forgotten gateway to your organization's sensitive data. Printers today are multifunctional and store extensive amounts of data. They also connect directly to your Wi-Fi and emails. This is why many cybercriminals target printers. It's crucial you look at the security benefits of your machine, so you don't leave yourself vulnerable to threats. It's better to be over-prepared when it comes to cyber security, so it's a good idea to pick a machine that is already set up to be more secure. 

4. Warm-Up Speed
Forty-five seconds doesn't seem like a lot of time, but when you add that up for every time you print across everyone in your entire organization, it can amount to a lot of time wasted. Printers and copiers have various warm-up speeds ranging from five to forty-five seconds. If your organization relies on making multiple prints throughout the day, then choosing a machine with a shorter or even instant warm-up speed could save you a lot of time within a year. 

5. The Supplies 
Like every business is unique, printers and copiers are too. They require different types of supplies like ink and toner. It's a good idea to think about the ink and toners that a printer needs to help guide your decision. Just like you don't want to pay for features on a machine that you will likely not use, you also don't want to have to buy expensive ink and toner if you don't need them. Or you might be interested in compatible vs. OEM's. Ink and toner will be an ongoing purchase, so getting the right ones for your business that won't affect your bottom line could make all the difference. Alternatively, many companies opt for an all-inclusive solution. This would allow you to pay a flat cost per page you print, all of the toner, and service or parts you might need. In doing so, you will know all of your expenses upfront. 

6. Colour Output 
The quality of printers and the output of colour does vary across different machines. Depending on what you are using your prints for can determine what machine you choose. You may think you only need a black and white printer, but did you know that colour can increase a reader's attention span and their ability to recall what they see? This could be beneficial when printing reports and presentations. It might also make more business sense to get a machine that provides a higher quality of colour output to provide you with better visuals to make a better impact.  
If you are looking to purchase a copier and printer in the near future it's a good idea to consider all of the six guidelines above so that you can make the best choice for your organization today and for years to come. Although getting a less expensive printer could save you money right now, it could be a costly mistake for you in the long run.


Ensure you analyze your needs and think about each of the six guidelines and what they mean for you and your team so you can make the best choice for everyone.  
We know purchasing a new copier and printer is a big cost so getting the right one for your organization's needs is important. We're here to help. Reach out if you have any further questions.
Phone: 204.262.1032

Email: sandra@carlylepss.com
Subscribe
Stay up to date with Carlyle
Recent Posts