Blog
Stay current with the latest Announcements, Blogs and Articles about us and the industry by reading our latest blogs and news.
---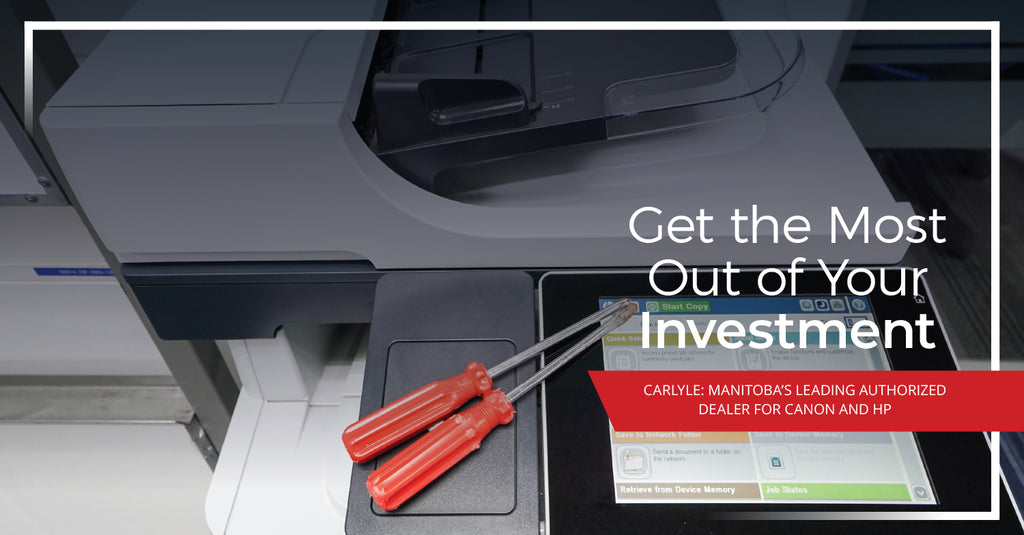 Why a Printer Maintenance Plan Can Save You Time and Money
Published By: Eric Johannson | Mon Sep 27, 2021
---
Your day is typically filled with multiple tasks, meetings, phone calls, emails, and so on. But how often do you think about your printer? You probably use it quite a bit, but did you know that regular printer maintenance services can prolong its life? Preventative printer maintenance is the best way to save on your equipment costs in the long run. In addition, it will further ensure your print quality stays consistent, keeping your office running smoothly. 
There are many ways to go about your printer maintenance; wait until an issue arises, keep track of when you need to call the service company yourself, or set up a routine printer maintenance plan. Out of the three options, the least expensive and easiest way (believe it or not) is to pre-schedule your maintenance. You simply set it up and forget it. There is no need to try and schedule appointments yourself, and you will significantly reduce the number of emergency service calls because you won't have as many repairs. 
 
Here are the multiple reasons you need to think about a full service printer maintenance plan.

Know Your Costs Upfront
With regular maintenance, you will reduce the amount of service repair calls you need to make. As your equipment gets older, you will likely have to make more service calls, and the larger the repairs will become. Over time these costs will add up. Having a routine maintenance plan in place will not only avoid these service calls, but you will have a better idea of how much you are going to need to spend on your printer maintenance. You will have a set price that you can account for within your budget, allowing you to be more strategic with your business decisions. Furthermore, you could invest in managed print services and know the complete cost of your full print fleet environment. This can help reduce your business' print-related costs up to 30%, which you can then use to reinvest. 

Save Time and Money
Your printer is an important part of your office environment and can cause a noticeable disruption if it stops working. This can set you and your team back in productivity, having adverse effects on your business. You then also need to shift your focus to scheduling a repair service appointment. This ends up costing you both time and money. With routine maintenance, you will minimize the time you would waste when a printer is out of commission getting repaired. A printer is an expensive piece of equipment and has many functionalities and parts within them. In some cases, when minor issues aren't dealt with right away, they can lead to big problems that shut down the equipment for more extended periods or even need to be replaced altogether. Printer maintenance will prevent significant issues from happening, avoiding interruptions to your workday.




Reduce Your Environmental Impact 
Routine maintenance will also reduce your energy costs. Authorized technicians will clean and ensure the parts within your printer are working more efficiently. They also know how to optimize the machine to utilize energy-saving features. This will lower your energy consumption and impact on the environment while also saving you money. Regular maintenance will also keep your machine running for longer. This means you won't have to replace it as quickly, and you will avoid having to send it to the landfill as soon. 

Improve Your Performance 
If your printer is operating efficiently, so will you and your team. Keeping your equipment maintained will ensure it will work the way it should. With regular printer maintenance, you will prevent common issues like blurry prints or paper jams. These issues often lead to frustration and delays affecting your team's morale. Having consistent and reliable prints help your team perform better and keeps your office running smoothly. With routine maintenance, your technician will be able to check for common issues and fix them before they happen and keep the parts and equipment clean, ensuring you get quality prints. They will also check to make sure your printer is configured correctly to avoid programming errors.      
Having a reliable technician is just as important as having a reliable piece of equipment. At Carlyle, we want to help you maintain your investment in your equipment and work with you to ensure you have proper upkeep. We have a team of experienced technicians who know our products and how to prolong their lives. We further pride ourselves in offering fast and friendly service and are committed to resolving any issues you have the first time. In fact, we guarantee an on-site response time within four hours of any service call for any managed print service contract customers. With a routine maintenance plan, we know you will be happier with your office printer's productivity, and you will get the most out of your investment. 

Learn more about our service offerings and how you can get started with a routine maintenance plan to prolong the life of your printer today.
Phone: 204.790.3881

Email: service@carlylepss.com
Subscribe
Stay up to date with Carlyle
Recent Posts