Blog
Stay current with the latest Announcements, Blogs and Articles about us and the industry by reading our latest blogs and news.
---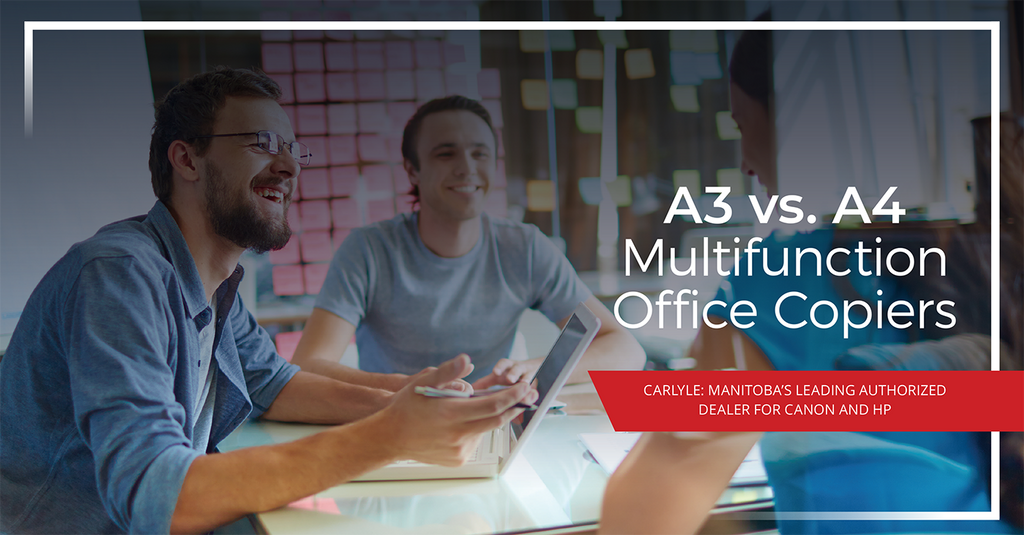 Is an A3 or A4 Device Better for Your Office?
Published By: Eric Johannson | Mon Jul 27, 2020
---
What does A3/A4 really mean? On the most basic level, it's a reference to the maximum paper size a printer can accept, but it's the finer details that ultimately determine which is the best choice. The physical size of the machine, its output and finishing capabilities, and the cost of supplies and service, need to be considered. Choosing the right device can save your organization thousands of dollars per device as A4 copiers often come with faster speeds and a much lower price tag.
So, which is the better choice for your office? Let's find out.
Printer & Paper Size
How much space do you have? A4s are physically smaller if real estate in the office is a concern. If it isn't, an A3 is still in the running.
What do you need to print? An A4 can produce both letter (8.5 x 11") and legal (8.5 x 14") documents but it cannot print tabloid (11 x 17"). An A3 can print all three of these standard paper sizes.
Output & Finishing 
A4 devices do not have the same level of output and finishing capabilities as an A3. An A3 is a high-capacity multifunction printer with finishing options like fold, hole punch, staple (over 20 pages), saddle stitch, and more. Some A4s can do finishing, but at a significantly reduced volume.  
Cost of Supplies and Service
A4s are less expensive to purchase because of the features described above, however, the supply and service costs can be higher than an A3. The cost effectiveness is determined by an analysis of your monthly print requirements. One of our representatives can determine your best fit based on your volume and printing needs. We calculate the total cost of ownership of both the device AND the ongoing operational costs to make sure you get the right device.
Now you know!
SHOP A4 PRINTERS     SHOP A3 PRINTERS
Still have questions? Contact us today to learn more.