Blog
Stay current with the latest Announcements, Blogs and Articles about us and the industry by reading our latest blogs and news.
---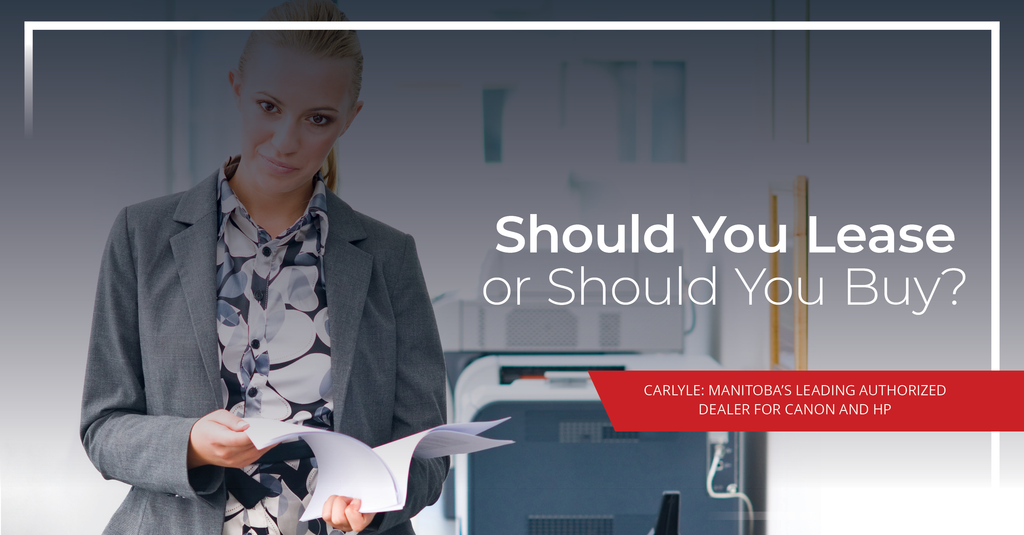 Leasing Office Products vs Buying: The Pros and Cons
Published By: Eric Johannson | Mon Jun 13, 2022
---
A pressing issue for any customer looking to purchase expensive office products is whether it's better to lease or buy. From document management software to printers & copiers, figuring out leasing vs buying is the first hurdle all customers must make. Having reliable technology in the workplace is a must to keep productivity up and costs down. Engaging the team in thoughtful conversation, doing thorough research, and planning out a strict budget are all admirable goals in the pursuit of technology purchases. 
A lot of time goes into the decision of buying a printer, for example. But what if buying isn't the best choice? What if leasing is a better option? And to top it all off, where do people even begin to make this choice?
In our experience, leasing has been the more popular choice for businesses. That's because print devices tend to vary in prices, ranging from as low as a couple hundred, to upwards of thousands of dollars. It can be daunting to invest in such a costly device that will only continue to depreciate in value over time.
Pressed for time? Skip to why leasing is the best choice!

We've come up with a list of pros and cons for both options.
To Buy, or Not to Buy: That Is the Question.
There are many printers available on the market now, from small home-office printers to wide format printers (a.k.a Plotters.) All these devices come with various features and security measures that offer users personalized experiences. The upfront cost can look intimidating, but the overall savings are promising.
For larger businesses, buying is often considered for new equipment. However, when it comes to larger devices often used by big organizations, the line on whether to buy or lease becomes blurred. While buying a costlier device still offers you savings because you won't run the risk of payments, it does include a bulk of other costs. There's the maintenance, supplies, and frequently updating outdated technology to consider. Over time too, your expensive investment will become less valuable should you ever decide to resell, with high depreciation rates on certain printers being the norm.
For small businesses or home offices, buying a printer can be the better option. In those environments, you won't be printing nearly as much (presumably) and your printer won't experience the same level of strain as one in a large office would. Since there are fewer people using the printer, too, the cost of operating the device is less. Plus, the up front cost of the device is lower.
Pros of Purchasing:
No Contracts

Flexibility of Ownership
Cons of Purchasing:
Purchasing A Depreciating Asset

Expensive Up-Front Costs

Future Budget Constraints Due to High Cost of Device

Risk of Breakdowns Without Maintenance Support
Be Not Afraid of Leasing
If buying is such a sunk-cost investment, then why don't more people lease? In short… because hitching your ride to another company can be a scary arrangement. No decision is without risk, and leasing is one of those choices that seems to come with a plethora of uncertainties. We've all heard the horror stories about people who've leased cars or apartments and ended up stuck in contracts that were unforgiving or fraudulent.
But don't panic! There's a light at the end of the tunnel, and the good news is– you don't have to be afraid of leasing! The key is to find a service provider that's trusted and has a proven track record. Companies that are open and honest about their service are more likely to be reliable. We at Carlyle, for example, always keep our Net Promoter Score available for customers to see. This helps maintain integrity, and gives you peace of mind as you'll always know what other companies have said about our services. 
Once you've found the right service provider for you, you're ready to weigh the pros and cons of the leasing itself. No more worrying about the unexpected pitfalls you've heard about in the past.
So, why choose leasing over buying? 
The biggest perk is flexibility. As strange as that might sound, leasing actually offers the end-user more choice than buying. Leasing helps you stay up to date with the latest technology. Since you don't own the printer, at the end of your lease you can choose a newer model instead of extending your lease on the older model. You also save money on the initial cost of buying a printer outright at the start. Leasing also gives you a set monthly cost for the machine, meaning you can budget your costs accordingly.
That said, leasing does come with its commitments. Getting into a contract long-term isn't for everyone. 
Pros of Leasing:
Ability to Pre-Plan Budget
Get the Latest Technology - A longer payment period may mean you can upgrade to more advanced technology
The option to buy out your devices at the end of your lease, often at reasonable market value
Qualifies as a business expense rather than a capital expense / depreciating asset
Saving on Initial Cost of Machine - Upgrading incurs little or no out-of-pocket expense
Cons of Leasing:
The MFP belongs to the leasing company
Leasing periods are locked in (normally three to five years)
Interest is bundled into your lease payments so the total cost of ownership may be more expensive
Carlyle: A Legacy of Leasing with Honesty
Remember what we said about choosing the right service provider? That's really the most important step to both buying and leasing. Finding the right people who know what they're talking about will ease the burden of purchase off your shoulders, as you can share the burden of your worries with knowledgeable and helpful trained staff ready to answer all your questions.
To assure our customers that they're always getting the best service, we use Net Promoter to give us an accurate score on our service. Carlyle currently has a 98.10% Net Promoter Score, with a 2.5 hour average response time. We've also achieved a World Class Net Promoter Score for over 10 years now! 
We at Carlyle are dedicated to upholding integrity, being honest, and keeping our customers happy. We want to make impactful differences in the lives of our clients, and that's why we offer a number of leasing options—not just for printers!
From helping start-up businesses get on their feet, to optimizing work output for large companies, each organization requires a unique contract that is most beneficial to them. That's why Carlyle offers several leasing contracts, including long-term leasing and short-term leasing. We also cover leases for not only printers, but also on document management software, as well as devices in the Zebra product line.  
Buying is a big decision that comes with the uncertainty of devices depreciating in value and becoming increasingly outdated as time goes on.
Stay up to date with your technology. Don't fall behind. Choose leasing.
To learn more about why leasing is right for you, speak with one of our representatives today. 
Subscribe
Stay up to date with Carlyle
Recent Posts