Blog
Stay current with the latest Announcements, Blogs and Articles about us and the industry by reading our latest blogs and news.
---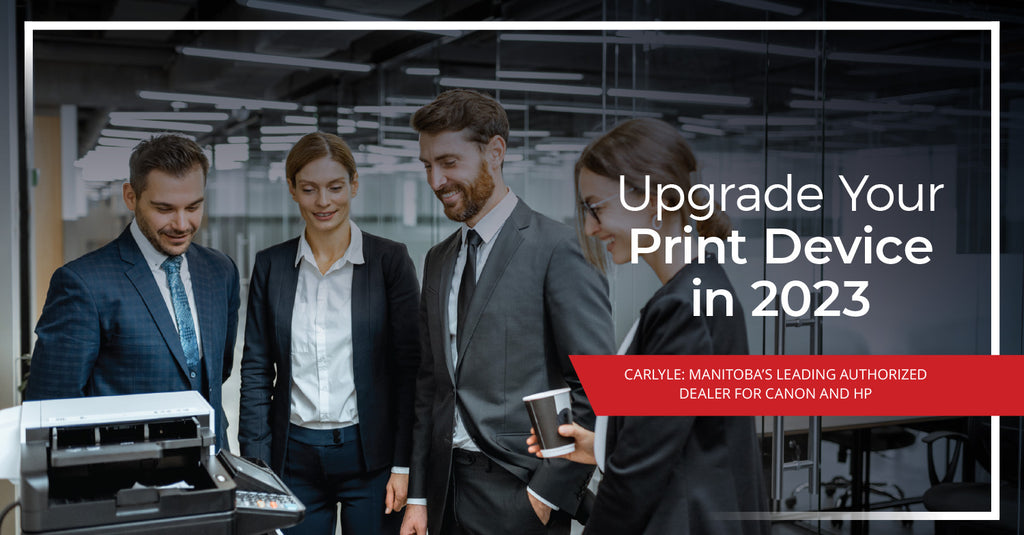 Top Reasons You Should Buy a New Printer in 2023
Published By: Eric Johannson | Fri Mar 31, 2023
---
Want to know the real reasons you should buy a new printer in 2023? We've got you covered. 
It's almost spring, and with that comes reorganizing and cleaning. But one thing that teams forget is that part of spring cleaning means getting rid of outdated technology. It's time for the "out with the old, in with the new" approach! There's lots of reasons why you might be putting off upgrading your printer. Maybe it's the cost or that you've been super busy at work lately. But a new printer could actually be the first step to relieving workplace stressors. 
The birds are coming home, the flowers will soon be in bloom, and your team can be embracing a new refreshed approach to your workflows with a new printer.
Here's why you should buy a new printer in 2023…
Save Money by Upgrading Your Printer:
It's no secret that buying a new printer costs money. And this is often the biggest deterrent for team leaders when it comes time to upgrade technology. The initial cost of a device can seem like a lot. In truth, however, that price is only a fraction of what your current outdated technology is costing you.
The older your printer is, the more money it's going to cost you. Print technology has continued to evolve as your printer has aged. With every new device, upgraded  functionalities are introduced that help lower costs and increase efficiency. You might not know it, but your current printer could be sapping resources from your budget. One massive expense is the cost of supplies. 
Supplies is one of the most expensive parts about owning a printer. With each new device model brought to market, the yields on the toner go up and the costs to purchase the toner go down as technology improves. Your old device could be costing you upwards of double the cost per page as a new device.
Over time, printers begin to struggle with what once was a simple enough task to do. And this means additional hidden costs.
Maintenance fees and the cost of power are all forms of "hidden print costs" that aren't always factored in during the initial purchase of a device. And even if your team did initially consider the costs, they will only increase over time. Replacement parts will become harder to find, electricity bills will continue to soar, and all the while your productivity levels will be dropping.
Increase Your Business's Productivity
Just like the costs of upkeep and supplies for your old print device will drag down your team's productivity, so too will the lack of functionalities on your old device. Every new device comes with new features. From minor tweaks that may go unnoticed by most to major changes like Bluetooth connectivity, print technology has continued to evolve with each passing year. With the rapid advancements in technology over the last ten years, this can mean your current device has not only become "outdated" but is a drain on your team. It will drag down your team's productivity, as they struggle with old technology that's not built for modern workplace tasks.
In comparison, new devices come with upgraded functionalities that have put modern workplace requirements at the forefront of their technological innovations. Whether your business is working with a hybrid model or requires more mobile printing and scanning, new printers have features that are there to make life easier for your team. Every additional feature will help boost the productivity of your team, as they're able to efficiently complete tasks.
Upgrading to a new printer will allow you to:

 
Print from your mobile device

Print larger files faster by increasing your device's memory and processing power by up to 7x

Increase your scan speed up to 270 images per minute

Integrate your scanning with programs like Sage or Salesforce

Track costs and bill back to the department
Your team also won't have to worry about waiting on print jobs, fiddling with settings just to make the printer work, or struggling through all the malfunctions that come with outdated devices. New printers are not only good for productivity, but also good for morale. 
Decrease Your Team's Stress
Nothing is more frustrating than running into technical errors while working. Need to get a task completed fast? Have lots of important projects due soon? Trying to work effectively as a team? Then you'll want reliable technology that you can count on. When employees need to print something, they want it to be done as fast as possible. They don't want to wait around by the machine only to have it display an error message halfway through. That's not only wasted time, but also a super frustrating position for your team members to be in. Outdated printers are dragging your team down, and it's time to look for a "new hire."
Unlike older devices, new printers are reliable. They have new features, better parts, and easier-to-navigate settings that will all decrease the stress levels around printing. Your team deserves to have technology that not only reliably supports them but helps them flourish! Not to mention a device that keeps their data safe and helps them avoid chaos. 
Outdated technology is also lightyears behind on security features. These devices are easier for cybercriminals to target, and they can quickly sneak through to your other connected devices without being spotted. One study found that over two thirds (68%) of organizations have experienced data losses due to unsafe printing practices (Quocirca). This can mean unprecedented amounts of stress for your team. Having data lost or stolen will increase the stress for your whole team, as they will have to scramble to recover valuable information or risk losing all that they've worked on. A new device can handle cybercriminals' tricks. They have better print security and are more capable of fending off attacks.
No one wants to see all their hard work go to waste. Risking your team's documents and devices with outdated print technology isn't worth it.
Not Sure Which Printer is Best for Your Team?
Now that you know why your team needs a new printer in 2023, it's time to learn which device is best. Our print experts are more than happy to help you find the perfect device! Get in touch today and we'll set you on the right path.
Already know what functionalities you're looking for? Our online store has a great selection of devices that are sure to exceed expectations. You can use our easy-to-navigate dropdown menus to find the right device for your team today!


Subscribe
Stay up to date with Carlyle
Recent Posts