Blog
Stay current with the latest Announcements, Blogs and Articles about us and the industry by reading our latest blogs and news.
---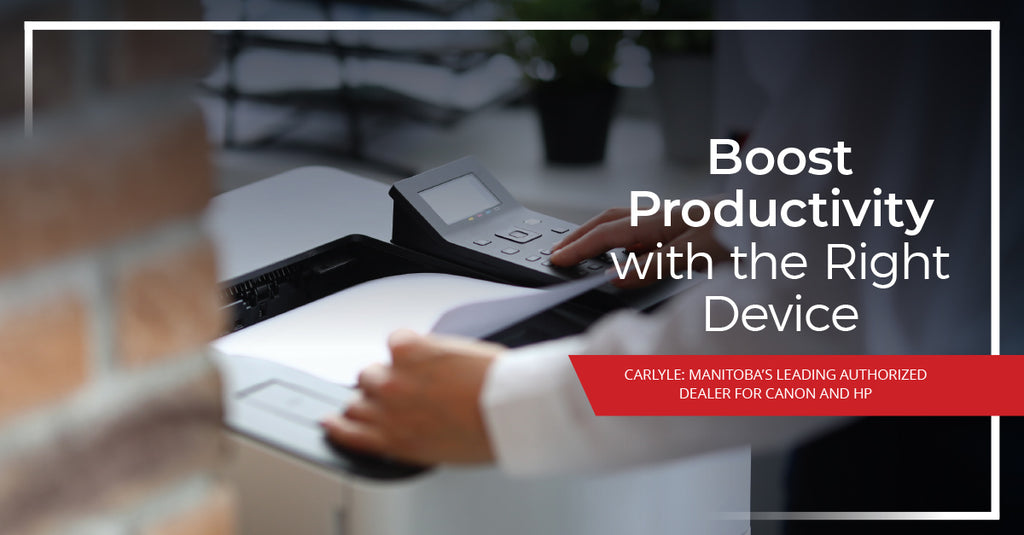 Our Top Choices for Printers and Copiers for 2023
Published By: Eric Johannson | Thu May 11, 2023
---
Buying the best copier for your business involves knowing the answers to a lot of questions. There are so many available options currently on the market, and no two copiers come with the exact same functionalities or features.
It's important to take the time to research what device will work best for you, and to do this you need to ask yourself the important questions:
What are your printing and copier needs?
How many people will be using the device?
What sort of connectivity features do you need to help your team stay productive?
Every office's needs are unique, and finding the right printer is essential to promoting better collaboration and communication between your team's members. We've selected four of the best available printers and copiers to help you narrow down the process and make an informed decision.
Click on one of the links below to read more about our chosen printer for the specific category you're most interested in. 
Best for Reliability – Canon imageRUNNER ADVANCE DX C5850i
Canon has a long-standing history for creating reliable printers. They have consistently proven that they are dependable with little to no misfeeds. Their imageRUNNER ADVANCE DX series has been a favourite for offices both big and small for many years. And it isn't hard to see why! They are award winning devices that have been rigorously tested by experts such as the team at Keypoint Intelligence.
From 2017 to 2021, Keypoint Intelligence tested the Canon imageRUNNER ADVANCE DX series devices. They found that after this five year period, only six misfeeds out of 4.45 million pages occurred (PRNewsWire). 
Of all the tested Canon devices, one stood out among the rest. The imageRUNNER ADVANCE DX C5850i was the recipient of the Most Reliable A3 Brand Award (2002–2024) and they won the Line of the Year Award (2022). This device can print up to 50 ppm and produces reliable, colour, quality prints. It is also an excellent choice for teams who are working in hybrid offices! The imageRUNNER ADVANCE DX C5850i comes with cloud capabilities that can support teams working in different offices. If your team is a hybrid office looking for a reliable device, then this device is perfect for you.
Overview of the Canon imageRUNNER ADVANCE DX C5850i's features:
Departmental copier

50 monochrome and 50 colour PPM 

USB, ethernet, and wireless connectivity

Up to 270 images per minute scan speed

12 x 18 paper size
Best for Security – HP LaserJet Managed MFP E78625dn
HP has become synonymous with print security. Their devices go above and beyond to keep private data safe. And with every new device that's released there comes an extra layer of protection.
The rate of cyberattacks has continued to soar over the years and businesses are suffering severe financial losses due to ransomware attacks. In 2022, one Statista report found that 71% of companies around the world had been affected by a ransomware attack (Statista, 2022). Teams that try to recover their data are then forced to pay a hefty fee. Nearly 72% of respondents paid the ransom in order to recover compromised data (Statista, 2022), but there was no guarantee that it would be returned. With it becoming costlier to try and recover data, the time has come to fight back against cybercriminals and equip your team with the latest in secure technology.
HP has released a new line of MFPs that come with upgraded security features. The HP Color LaserJet Managed MFP E78625dn has the latest in HP's innovative functions: HP FutureSmart firmware. This addition allows teams to upgrade their device digitally with the most up-to-date features. That includes the latest in security upgrades! With each upgrade, you'll be helping to keep your team ahead of cybercriminals' plans and better protect your sensitive data.
Overview of the HP Color LaserJet Managed MFP E78625dn's features:
Workgroup copier

Up to 40 PPM printing speeds

Wireless connectivity

Up to 120 images per minute scan speed

11 x 17 paper size
Best for Home Offices – HP Color LaserJet Pro MFP M479fdw
Home offices are often pressed for space and workers can't afford to lose a whole corner of their office to accommodate a larger printer. For that reason, remote workers might want to consider a desk-sized printer. This will keep the device from occupying too much of your office's space while still providing you with reliable prints.  
The right printer can also keep you connected to your team members who are working in-office and help you complete essential together. Working away from your team no longer means losing out on collaboration. With new cloud functionalities, wireless print options, and on-screen document editing your printer is now an important tool for team building. 
Another important feature that you won't want to overlook with your home office printer is security. Just as we mentioned earlier, no printer brand is better for security than HP! The HP Color LaserJet Pro MFP M479fdw is then the perfect printer for those working in home offices. It is compact in size, saving you tons of office space, and has all the latest cloud and security features that you'll need to safely collaborate with your team from home. 
Overview of the HP Color LaserJet Pro MFP M479fdw's features:
Home office copier

Up to 27 PPM printing speeds

USB, ethernet, and wireless connectivity

Up to 29 images per minute scan speed

 
Best for Small Businesses - Canon imageRUNNER ADVANCE DX 527iF
Having a reliable printer for your small business is both helpful for collaboration and for promoting creativity. But nothing disrupts important collaboration more than a cluttered office-space! That's why choosing a compact device can be the best option for small businesses.
What's more, having extra space in your office will mean you'll have room for collaborative work. Collaboration has been proven to increase employee satisfaction! One report by Deloitte found that 56% of respondents reported being happier when collaborating (Deloitte). Collaboration is especially important for small teams, who often have to juggle more than one big project at a time. Being able to check in with team members and collaborate will keep productivity levels up.
Choosing the right printer is essential to completing tasks quickly and effectively. Just as the Canon imageRUNNER ADVANCE DX C5850i is known for its reliability, so too are the compact models of printers in the series. Most notably, the Canon imageRUNNER ADVANCE DX 527iF. This device––like its larger counterpart––has print speeds of up to 50 ppm. It also has printing, copying, scanning, storing, and faxing functionalities, meaning you will only need one device to complete all your essential tasks! 
Overview of the Canon imageRUNNER ADVANCE DX 527iF's features:
Workgroup copier (without 11 x 17 print requirements)

Up to 55 PPM printing speeds

USB, ethernet, and wireless connectivity

Up to 200 images per minute scan speed

8-1/2" x 11-3/4" paper size
Carlyle is also currently running a limited time promotion on the imageRUNNER ADVANCE DX 527iF. Right now, we're seeing some of the best prices on Canon desktop MFPs! You can get up to 41% off of select Canon devices. Don't miss your chance to save.

If you'd like help finding the best device for your team's unique needs or have questions about our selected printers, connect with one of our print specialists today.
Subscribe
Stay up to date with Carlyle
Recent Posts